Scalable and enterprise ready
Bitrix24 on premise editions are ideal for organizations ranging from 50 to 50,000 employees in size. Bitrix24 Enterprise comes with a web clustering module, meaning you can easily scale up from a small trial to a company wide implementation, build high availability failover enterprise portals or deploy independent intranets for each branch, department or subsidiary in your company.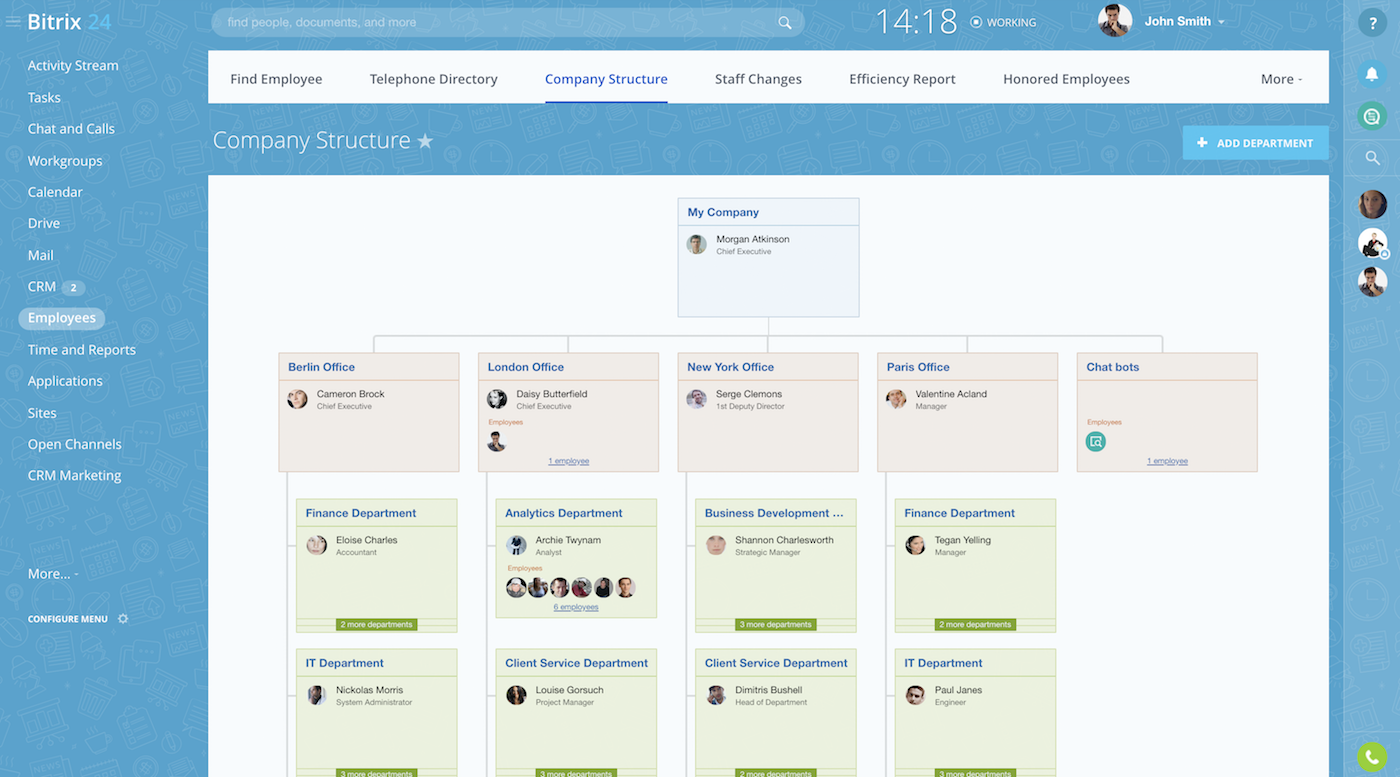 Low requirements
Role based access rights
LDAP and Active Directory support
SSO (NTLM, custom)
Scalable web cluster application
Independent centrally managed intranets for multiple divisions, branches or departments
Performance monitor
Web cluster visual configuration tool
Mobile ready
Request demo
Secure
Hosting Bitrix24 on your own servers gives you full control over your data and who can access it. Data transfer for all users is carried out via an SSL-encrypted connection with a 256-bit key. All popular two factor authorization methods are supported.
Two factor authorization. HOTP (HMAC-Based One-Time Password Algorithm, RFC4226) and TOTP(Time-based One-time Password Algorithm, RFC6238). Token or smartphone app
Bitrix OTP, WinAuth, Google Authenticator, FreeOTP
LDAP and Active Directory support
SSL
RSA encryption
Web Application Firewall
Custom backup rules
Request demo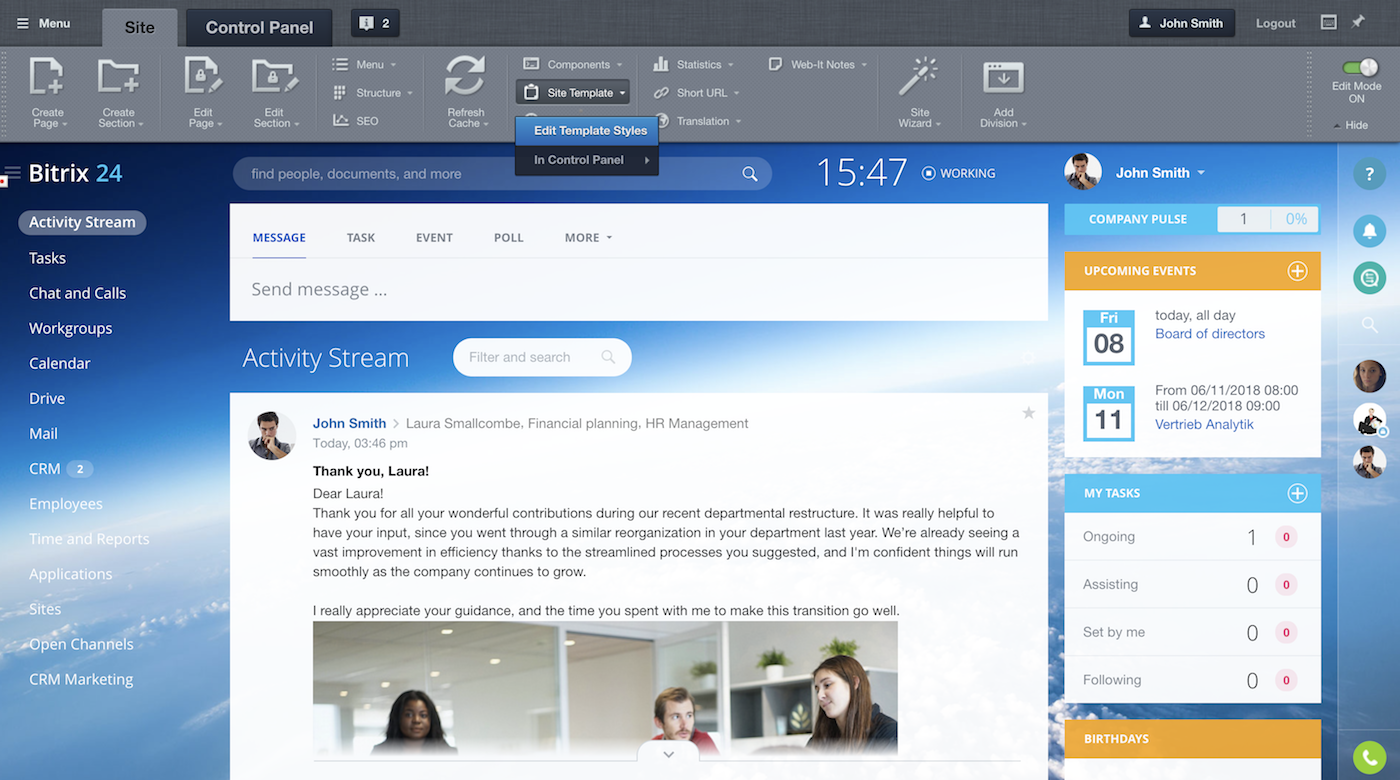 Private cloud
Can't use Skype, Slack, Dropbox, Salesforce and other cloud only solutions inside your organization? With self hosted Bitrix24 you get your own private cloud suite that is fully under your control. In addition to that, you get access to Helpdesk, Idea Management and eLearning modules that aren't available to cloud Bitrix24 users.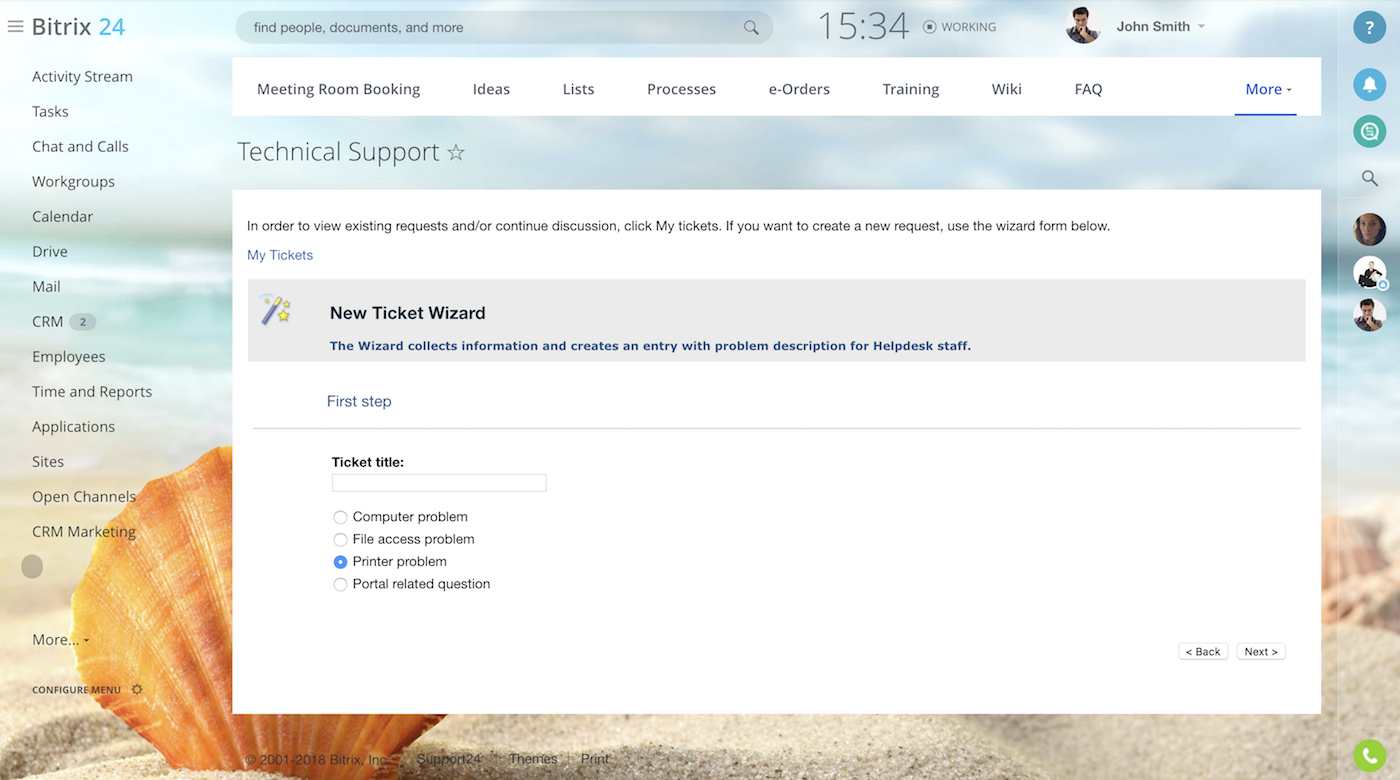 Video conferencing
PBX (via VoxImplant cloud server)
Document management
Bitrix24.Drive
Desktop app with document sync
CRM
HRIS
Task and project management
Instant messenger, XMPP server
Helpdesk (not in cloud plans)
eLearning (not in cloud plans)
Idea management (not in cloud plans)
iOS & Android apps
Request demo
Customization/ Integration
Because self hosted Bitrix24 editions give you direct access to the source code, it is fully customizable. API and SDK documentation help you integrate Bitrix24 with other services that are critical to your business.
Supplied in source code (unobfuscated)
Built-in full-featured CMS
Powerful backend
Corporate identity (logo, brand colors, etc)
API, SDK
Add your own modules, apps, bots
Localization module – translate Bitrix24 into any language
Classic and social portal templates
Native integrations with MS Exchange, Office 365, MS SharePoint lists
SOAP web services
Easy to integrate with any ERP
Bitrix24 framework
Request demo