How did your tax filing go? If you run a childcare facility in Quebec, you know about the tax files you had to submit for childcare expenses. The process can be overwhelming, especially when you invest most of your time and energy in finding the right accountant for the job. However, it was an incredible experience for many childcare centre owners in Quebec who turned to Relevé 24. Simply put, instead of paying hefty amounts to accountant agencies, individuals who run childcare facilities were able to do it themselves on a single system certified by Revenu Quebec.
At First BIT Canada, our mission is to put your manual work at ease, bringing high-tech solutions that do the work for you. Relevé 24, a cutting-edge solution implemented on the Every8.Cloud platform is designed to create an organized environment for childcare service providers to file their RL-24 slips.

Considering that the childcare centres in Quebec with more than 50 children have to use a Revenu Quebec approved software, Relevé 24 became an excellent solution for several childcare service providers.

A wonderful journey with Relevé 24: 6,442 statements, 7,834 children's data and a total of $19,996,468 childcare expenses have been registered, all in a single system.

Tax filing made simple with Relevé 24
Input your RL-24 slips in the system.
Produce and validate the RL-24 slip summaries (automatically generated on the system).
Get your reports generated in XML format
Have your reports ready in a flash to be sent to Revenu Quebec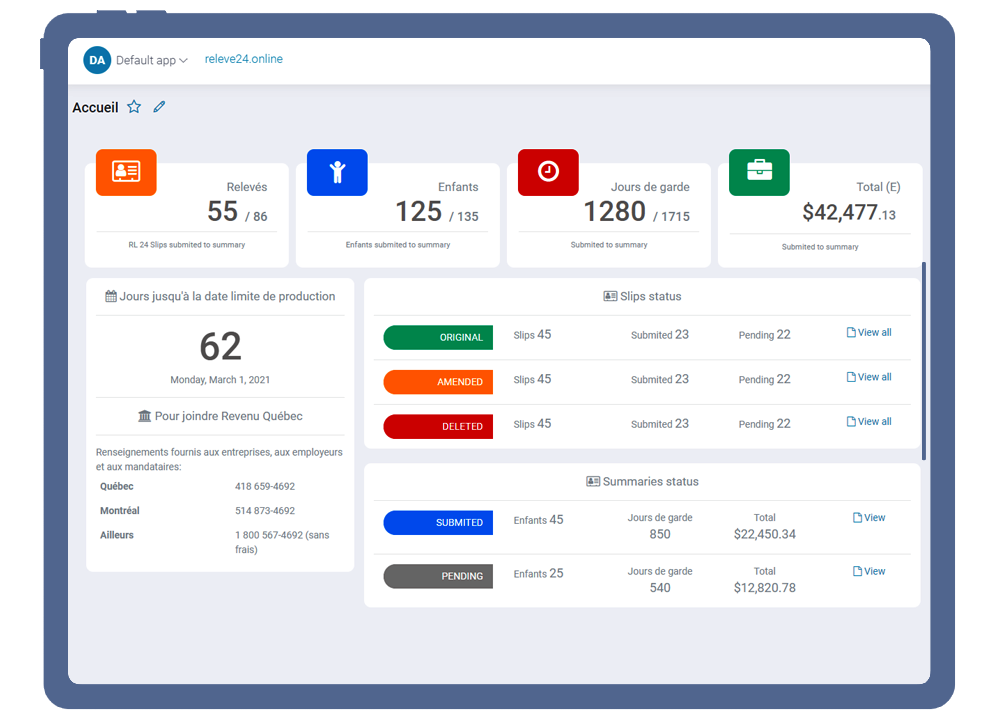 Your Relevé 24 Guide
User-Friendly Interface
The Relevé 24 interface remarkably simple and made with ease-of-use in mind.
Direct Excel File Import Option
Manually enter your tax-related data or save time uploading your information on an Excel import template.
Access From Any Device
Relevé 24 can be accessed from anywhere and any device you want as it's available on mobile (Android and iOS). Get your tax filing done on the go.
Cost-effective
No more paying extra bucks to your accountant, get the leverage of an intelligent tax-filing solution that takes care of the complete process, from start to finish.
Hundreds of Relevé 24 users have gained control of their tax-filing procedures and we are delighted to be able to make it happen!
Take a tour: https://releve24.online/fr